The MAX is the newest addition to our PicoBoo family. We've combined the simple programming of a PicoBoo with the superb sound quality of our BooBoxes. It's a PicoBoo with MP3 quality audio!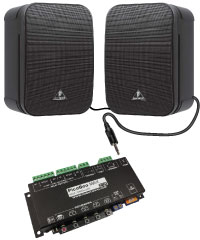 Audio
The PicoBoo MAX uses the same MP3 decoder as our BooBoxes. No need to play sounds into these PicoBoos, just copy the files to an SD card. Up to 8 scare sounds can be used to mix things up.
Ambient audio tracks can be synced with ambient animation, or just fill the SD card with scary audio and it'll play that while it sits idle.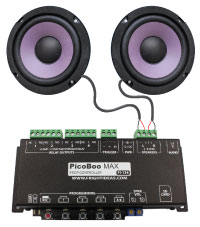 Amplifier
The MAX includes the same Class D amplifier as its PicoBoo brothers except it's in stereo. That's two channels of audio at 15 watts each. It gets loud!
The amplifier's full output power can only be realized with two 4 ohm speakers and a power supply of at least 3 amps. The standard 1 Amp power supply is surprisingly loud, but you may notice distortion at higher volumes.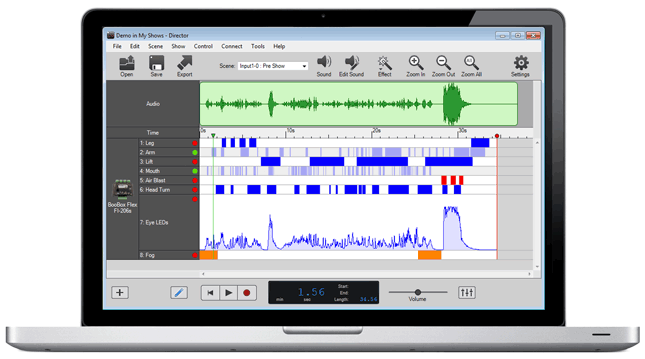 Director Compatible
This PicoBoo can also be programmed using our free Director software. Create even the most complex scenes with just your mouse and keyboard. Director will save your show to the MAX's SD card.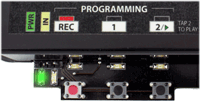 Real-Time Programming
The PicoBoo MAX can be easily programmed using the on-board buttons. Program all the outputs at once, or layer them up one at a time for more complicated scenes. There's no confusing button sequences to memorize or manuals to study. One button for each output keeps things straight forward, simply press record and start animating.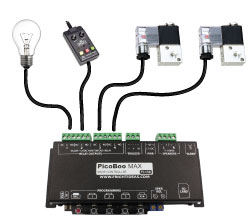 Relay Outputs
The PicoBoo MAX has four 10 amp relay outputs brought out to two pluggable terminal blocks. Each of the outputs has both a normally-open and normally-closed contact, ensuring you will be able to control anything.
Animation is recorded at 30 frames per second. Up to 30 minutes can be recorded in each of the scenes. The ambient and trigger scenes can each sequence through up to 8 scenes, allowing for different animation on each trigger.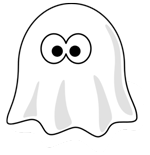 Ambient Animation
The PicoBoo MAX doesn't just play sounds during ambient mode, it can also animate the outputs while the prop is waiting to be triggered. Program this mode with what you want the patrons to see and hear as they approach the scare - a little foreshadowing of the terror to come.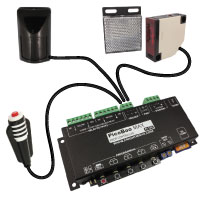 Trigger Input
The PicoBoo MAX has a trigger input that can be used to trigger the scare automatically. This is most commonly used with PIR motion sensors, beam sensors, hand triggers, or pressure mats. If you want the MAX to loop your scare indefinitely, connect the - and IN trigger pins with a small wire jumper.
Our selection of triggers can be seen here.

Write-Protection
The PicoBoo MAX has a write protection mechanism that helps prevent accidental or unwanted program changes.


Downloads and Documentation
Additional Information
| | |
| --- | --- |
| Amplifier | 30 watt Class D |
| Audio Storage | SD Card |
| Audio Quality | MP3 |
| DMX Compatible | No |
| Output Capacity | 10 Amps Each, 120VAC Max. |
| Output Type | Relays |
| Outputs | 4 |
| Inputs | 1 |
| Supply Current | 0.2 to 2.5A |
| Supply Voltage | 9-12 VDC |