Quick Overview

Director is an innovative application developed specifically for the BooBox product line. Whether you're programming a small show with a few outputs, or a complex show with lots of DMX devices, Director's clean, intuitive interface will make the job a breeze.


Built-In Sound Editor
Director includes a built-in audio editor that allows you to trim, fade, copy, paste, and apply loads of sound effects - all without having to leave the program. And there's no need to convert your audio files to MP3, Director does that for you too.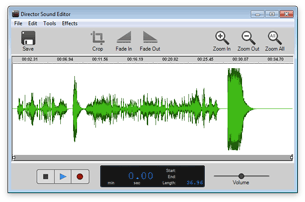 Animation Effects
Director includes Effects generators to generate some types of animation automatically. The effects can automate some of the more tedious jobs like syncing mouth movement to audio, creating random character movement, or syncing lightning flashes to a thunder soundtrack.

All the effects can be customized to suit your needs, and any changes are shown in real-time on screen, and on the controller if you have a Director Connect.


Simple Import and Export
No more renaming sound files and folders, Director handles all of that for you. If you want to edit an existing show on one of your BooBoxes or ScareMaster, simply insert the SD card and Director will take care of the rest. When you're ready to export a show to a BooBox, Director will do all the dirty work. It couldn't be easier.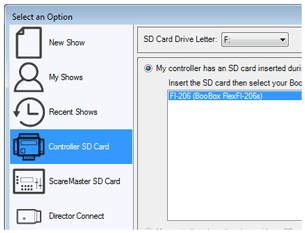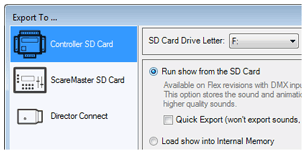 Easily Adjust Scene and Show Settings

Get the most out of your BooBox by tweaking and tuning the scene and show settings. Tweak and tune delays, timers, volumes, and more. Harnessing the hidden power of your BooBox has never been easier.



Rename Scene and Output Labels
Director allows you to assign useful names to your scenes and outputs. No need to write it down or try and remember what input and output was connected to what. Director will keep track of that for you.




Email and Download Examples
If you need to email a show to a friend or customer, Director's new Email Show option makes it easy. Simply enter the recipient's email address. The recipient is then emailed instructions describing how to download the show and export it to a controller. If you'd rather Zip up the show and email it manually, there's also an option to easily save the Show as a Zip file.
The Download Show option in the Open file dialog box lets you easily download example shows from the Fright Ideas website. Use the examples as a starting point for your own shows, or export them straight to a controller for immediate use.



Director Connect -
Director Connect will allow you to interface a BooBox directly to your PC so Director can animate it in "real-time". Without Director Connect, shows are saved to an SD card which must be inserted into the BooBox.